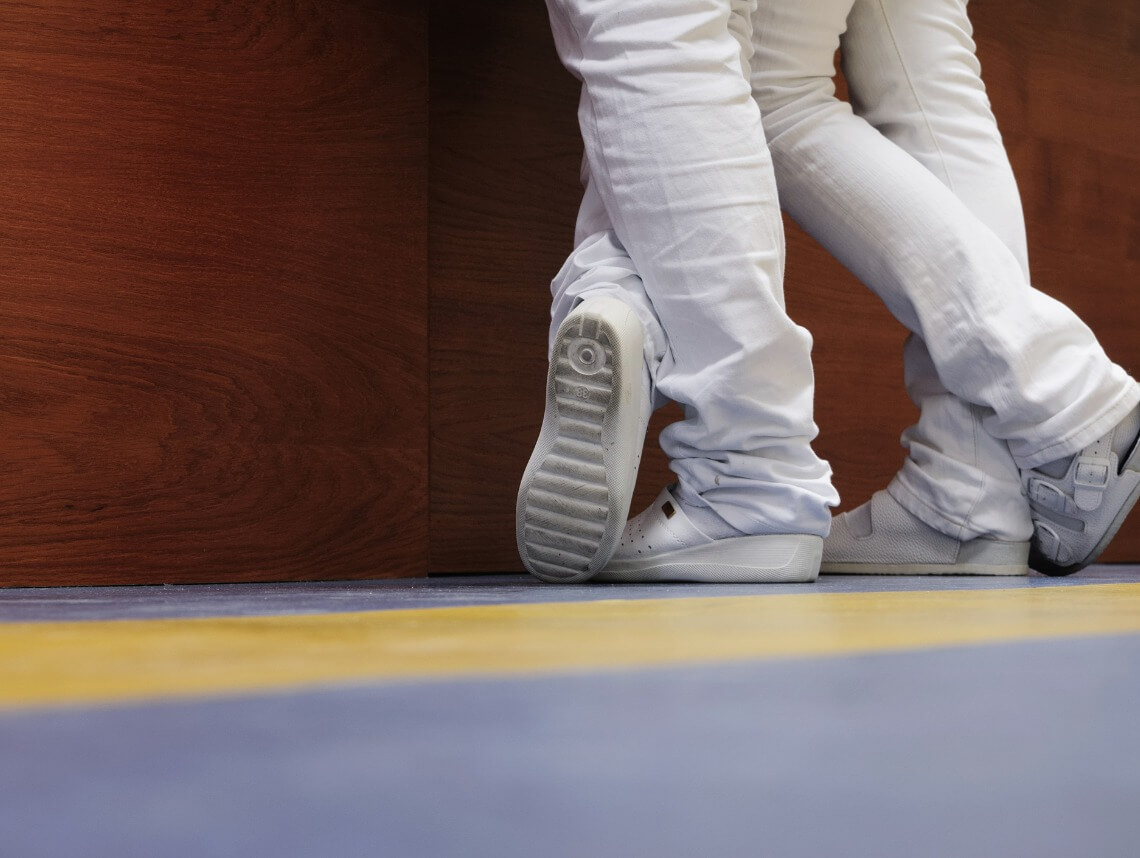 As a nurse, you're constantly on the go — from checking on your patient to talking with loved ones. And, no matter what branch of nursing you're in, whether hospitals or home health care, you're routinely spending hours on your feet. That's why it's crucial that the shoes you wear are not only supportive but that they are comfortable to wear for long periods of time.
Why the Right Shoes Are Important
Whether you're new to the nursing field or you've worked in the industry for years, you've probably had a day where your feet were sore, tired, or even blistered after a long day of walking. While these discomforts may seem temporary, wearing the wrong shoes for long periods of time can be detrimental to your health — resulting in back and joint pain. And, when you're responsible for caring for a patient, you just don't have time to deal with foot discomfort.
The 5 Best Shoes for Nurses on Their Feet All Day
In order to determine the best shoes for nurses, we analyzed more than 50 brands of shoes to find the best picks for nurses. To help us narrow down the options, we created four categories: support, comfort, appearance, and price.
1. HOKA One One
HOKA began as a running shoe company with a goal to trim running times — but they've progressed into so much more. Now, they provide shoes for marathon runners, healthcare professionals, and suburban power walkers. From walking to orthopedic, their styles of shoes check off many of the boxes nurses look for in a dependable sneaker.
Support
HOKA offers various shoes with a wide range of cushioning, support, and width options. So, whether you have wide, flat, or arthritic feet, they have a supportive shoe to fit your needs. Each shoe is designed to absorb impact so you can stay on your feet longer.
Comfort
Whether you're working a short or long shift, HOKA shoes are comfortable all day long. They feature a midsole compound, making these shoes feel lighter on your feet. All of their shoes have a mesh top to promote breathability and a foam cushion for all-day comfort.
Appearance
From white or black options to multiple bright shades, you can choose the same style of shoe in several different colors. Mix and match your shoes to match your scrubs or change styles to freshen up the look. However, the shoe is bulkier than other options and doesn't offer stain resistance.
Price
HOKA shoes are some of the most expensive shoes on our list, but their orthopedic shoes can range between $130 – $160. Built to last, these shoes will keep you supported for two to three years.
2. Dansko
Dansko aims to improve the quality of people's lives through great products, sincere passion, and a commitment to a better tomorrow. As former horse trainers, they began their journey looking for the perfect barn shoe. What they found was a line of comfortable shoes for almost every occasion — including healthcare professional footwear.
Support
Dansko shoes for healthcare professionals come in a clog form. They feature a cushioned footbed that allows you to be on your feet for long periods of time without losing support or comfort. And, their rubber outsole is slip-resistant, giving you stability in a variety of conditions.
Comfort
While sporting the appearance of a clog, these shoes are lightweight and feature a memory foam sole for your feet. And, with plenty of room for your toes, you can work for long hours without feeling the effects.
Appearance
Each shoe is designed to slip on and off easily — giving you back valuable time in your day. They come in various colors to mix and match with your scrubs and add variety to your wardrobe. Plus, each shoe is stain resistant, making them easier to maintain.
Price
Dansko shoes for nurses and medical professionals can range from $115 – $150. While not the most expensive on the list, they are also in the upper range. Depending on how well you care for them, these shoes will last you one or two years.
3. Crocs
Crocs began with one goal in mind: to make the world comfortable. Comfort is their number one priority, and they work tirelessly to deliver on that mission by continuing to research and discover technology that makes shoes lighter, more comfortable, and more flexible. That's what led them to be one of the most commonly used shoes in the healthcare industry.
Support
While crocs are extremely comfortable, they don't provide the same support as other alternatives. However, they offer enhanced arch support, which can help those with flat feet.
Comfort
Despite a lack of focus on supportive materials, Crocs are the most comfortable shoe on the list. They offer plenty of room for your toes and are easy to slip on and off. Plus, their design includes deeply cushioned footbeds paired with supportive Croslite™ foam outsoles.
Appearance
Crocs come in a variety of different colors and styles, each designed in the shape of a clog. While the outward appearance of these shoes is something to get used to, they are one of the most popular choices for shoes in the nursing industry. That's because each shoe is made of rubber — making it lightweight, easy to clean, and slip-resistant.
Price
The most affordable on the list, Crocs range from $25 – $60. While they may not last as long as other shoe alternatives, you can still depend on one pair to last a full year. The low price tag means you can add additional pairs to your closet — helping each pair last a bit longer.
4. Brooks
Brooks has been making running shoes for over 50 years, but they were in the shoe business long before then. From ballet and bathing shoes to roller skates and cleats, Brooks has been developing athletic shoes for a century. It's their experience that makes their walking shoes so ideal for the nursing industry.
Support
Brooks offers a variety of shoes with different levels of support — from neutral and supportive to max support. You can customize your shoe based on your activity level. So, if you work in a hospital, you may require more cushioning than you would if you were working with one patient in home health care. And, each shoe is slip-resistant, helping you work in various conditions.
Comfort
Each shoe is designed to reduce the impact on your joints when walking or running. Brooks has designed a cushion that responds to your unique stride, weight, and speed. This means you can stay on your feet for long periods without losing comfort.
Appearance
Brooks shoes only come in a few muted colors — white, black, and grey with a small pop of color. So, if you're looking for a practical shoe with a simple color scheme, these are a great fit. They work with any color of scrubs. However, like the HOKA shoes, they are a bit bulkier in appearance.
Price
Brooks shoes range from $130 – $160, making them one of the most expensive shoes on the list. But, this high price tag comes with durability not offered by some of the other shoes. Built with a solid foundation, these shoes can last you two to three years.
5. BALA
BALA exists for one reason: to make nursing the most respected profession in the world. They're doing that by creating a shoe that's made for nurses. What makes them unique is that they tested their shoes with nurses around the United States and worked with them to develop their product into what it is today.
Support
Designed specifically for the high-impact and energy of nursing careers, the BALA Twelves provide cushioned support to last you an entire shift. In addition to the cushioned sole, they also provide exceptional arch support. Each shoe features a high-traction outsole created specifically for hospital floors.
Comfort
The BALA Twelves feature a knit fit that accommodates the foot shape and adapts if swelling occurs. Each shoe provides plenty of space for your toes and is shaped specifically for womens' and mens' feet.
Appearance
While these shoes only come in three different colors — nocturnal, shade, and daybreak — they feature a slimmer fit than other shoe alternatives without losing the toe support. And, each shoe has a fluid-resistant and easy-to-clean protective outer layer.
Price
As a newer company, BALA only has one shoe available at $130. But, they claim you'll love their shoes because a nurse, like yourself, designed them. And, we couldn't agree more. These shoes were built for the industry and are made to last.
Do you agree with our list? Let us know what shoes you wear in the comments below. Or, give some of these a try and let us know what you think.
Contact Care Options for Kids for Pediatric Nursing Jobs
Are you looking to become a pediatric nurse? Care Options for Kids can help. We are currently looking for compassionate and nurturing Pediatric Licensed Practical Nurses (LPNs) or Pediatric Registered Nurses (RNs) across various locations. Care Options for Kids specializes in one-on-one hourly pediatric care in the home. We offer on-the-job training, full benefits, flexible schedules, PTO, and more benefits.
If you or a loved one are considering a career in pediatric nursing, contact Care Options for Kids. Apply online or call today at (888) 592-5855.
Subscribe to Updates here